Testimonials
The many returning Compliments and Thank You Cards
are our motivation every day!

Our longstanding relationships with clients have confirmed our approach, which we have been successfully practicing for over a quarter of a century.
The following excerpts are only a small sample of the many similar messages from our clients – please contact us if you would like references. We will be pleased to provide you with the corresponding details upon request to the respective client.

Not only the many dear letters from our clients and numerous yearly cards with words of appreciation encourage us in our work, also our work is positively commented by the media: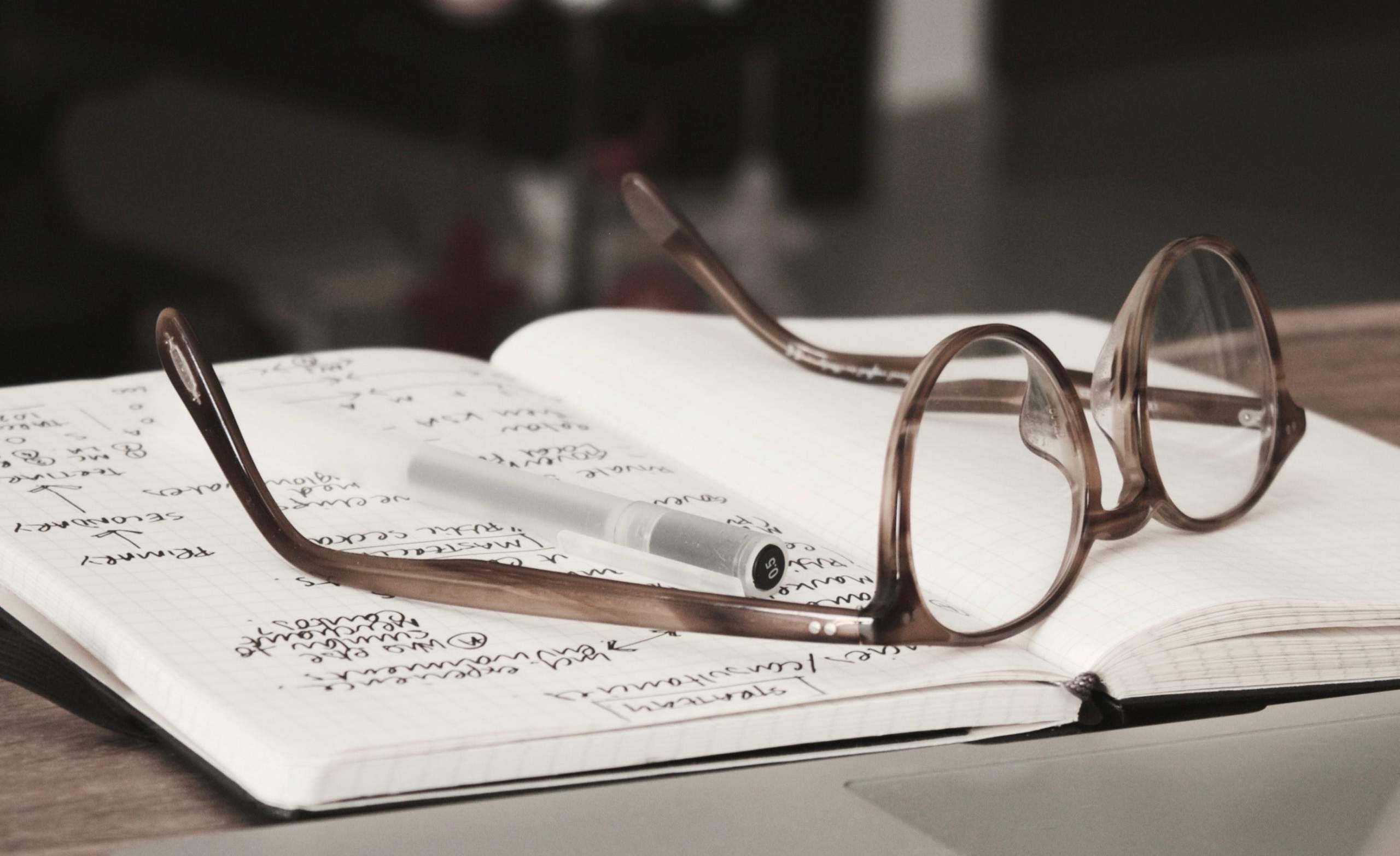 … and not only clients, but also journalists from the financial sector closely monitored our performances with very clear testimonies – listen and watch for yourself!
… and what our clients say
Read some of the many thank you notes and letters we receive each year..

"AGFIF offers a professional and trustworthy service. Personal support and continuity are also a valued asset."

Roland W.

Zürich
"I am very satisfied with the asset management and have been a loyal customer of AGFIF for years."

Harry M.

Stuttgart
"Hello, this is Peter Heinrich from Börsenradio.de
We really enjoy working with Mr. Hlinka. He has been a very reliable interview partner for more than 15 years. And he's one of the most popular asset managers among the listeners of Börsenradio.
Because Mr. Hlinka has a very good assessment of the market situation. You can also hear the responsibility he has in managing so much of his clients' assets.
This was one of the reasons why we decided to open a real money account with Mr. Hlinka.
The Stock Exchange Radio allocates only 1,000 Euros per month to an account managed by Agfif, which is responsible for the asset allocation - here you can verify the credibility of the allocation and the thoughtful approach."

Stockmarket Radio Börsenradio - Germany's Number one Radiostation for Stockmarket News

Germany
"My wife and I thank you for your kind support and above all for the excellent analysis of our portfolio with the great results you have achieved, which had convinced us completely, when comparing with the Brokers and Banks we have dealt so far."

M. Ch.

Basel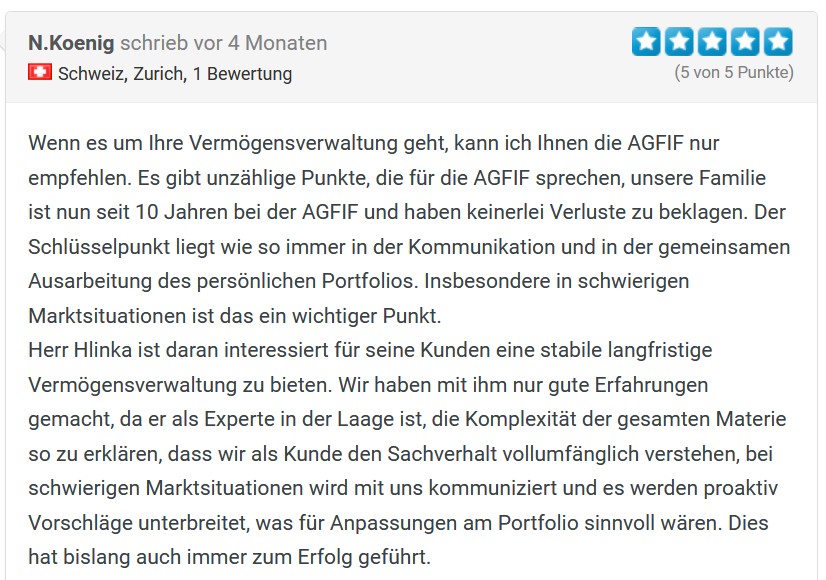 "When it comes to managing your assets, I can only recommend AGFIF. Our family has been with AGFIF for 10 years and we have never had a loss. As always, the key point is communication and the joint development of a personal portfolio. This is especially important in difficult market situations.
Mr. Hlinka is interested in stable, long-term asset management for his clients. We have only had good experiences with him because, as an expert, he is able to explain the complexity of the whole matter in such a way that we, the client, fully understand the facts. In difficult market situations, they communicate with us and proactively make suggestions as to what would make sense to adjust the portfolio. So far, this has always been successful."

N. Koe.

Luzern
"We have been advised by AGfif since 2013, about 11 years. After outperforming the SMI benchmark index and time deposits only a few times since the mid-1990s due to poor advice from our former high-fee financial advisor, we switched to AGfif on the recommendation of a friend. Since then, we have Mr. Hlinka and his team to thank for our portfolio's ability to outperform the index and generate solid returns over the years.
As a result of his meticulous persistence in stock selection and portfolio management, we can look forward to a happy retirement in Thailand.After more than 10 years with AGFIF, we can say that we can only report positive experiences - Bravo, please keep up the good work!"

R. Ma.

Bangkok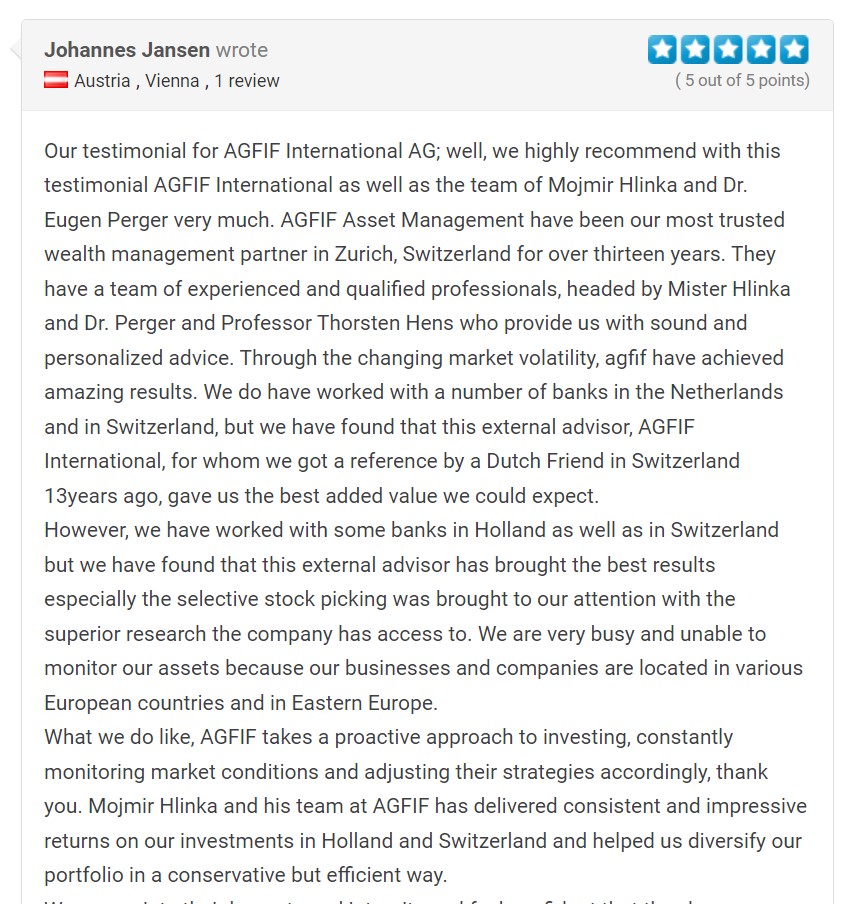 "we highly recommend with this testimonial AGFIF International as well as the team of Mojmir Hlinka and Dr. Eugen Perger very much. AGFIF Asset Management have been our most trusted wealth management partner in Zurich, Switzerland for over thirteen years. They have a team of experienced and qualified professionals, headed by Mister Hlinka and Dr. Perger and Professor Thorsten Hens who provide us with sound and personalized advice. Through the changing market volatility, agfif have achieved amazing results. We do have worked with a number of banks in the Netherlands and in Switzerland, but we have found that this external advisor, AGFIF International, for whom we got a reference by a Dutch Friend in Switzerland 13years ago, gave us the best added value we could expect. agfif brought the best investment results especially the selective stock picking was brought to the attention by our Dutch Friends even longer than 13 years."

Johannes J.

Austria and Holland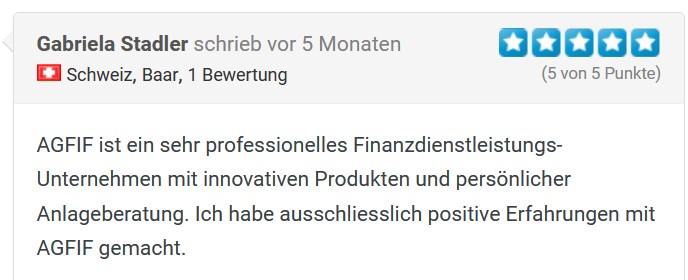 "AGFIF is a very professional financial services company with innovative products and personalized investment advice. My experience with AGFIF has been nothing but positive."

G. Sta.

Baar, Switzerland
"We started with AGFIF in 2003. We knew we were in safe hands as we got the recommendation of a dear friend. However, we still have some doubts, but they quickly disappeared as we worked with Mojmir. The communication throughout the whole process to tailor a perfect portfolio was excellent. The knowledge of that investment team has to be proven invaluable went above and beyond our expectation. I absolutely can recommend AGFIF to others."

W. Li.

Winterthur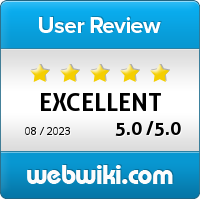 "AGFIF has proven to be an extremely valuable partner. They rebuilt my entire portfolio from scratch and have since provided a consistently high level of service, successfully maintaining and rebalancing my portfolio! I have enjoyed great returns with AGFIF for 12 years! I have been impressed with the level of proactive market adjustments based on their behavioral science approach, which has resulted in strong returns even in difficult years."

Dr. Franz R.

Austria
"Working with AGFIF together is a great experience for now more than 12 years. They are very competent, trustful and very attentive. You can tell that the customer's concerns are really taken serious - complete the opposite of the bankster, we only got financial products, funds sold to us (...) That was a painful experiences specially with (...) bank. My wife and I feel in good hands with AGFIF."

Robert B.

Winterthur
"Mojmir and his team at AGFIF are great; they provided an excellent summary of what has to be done to optimize our portfolio and to be in line with our financial requirements. AGFIF provided a written summary with a clear graphical overview, a chart of where we were and what should be done, so the risk-/reward ratio will be in line with our risk tolerance. That was 7 years ago and ever since we have outperformed the market and kept our risks under control - Wouldn't hesitate to recommend!"

Frank und Silvie B.

Stockholm
"AGFIF has proven to be an extremely valuable partner. They rebuilt my entire portfolio from scratch and have since provided a consistently high level of service, successfully maintaining and rebalancing my portfolio! I have enjoyed great returns with AGFIF for 12 years! I have been impressed with the level of proactive market adjustments based on their behavioral science approach, which has resulted in strong returns even in difficult years."

R.Ba

London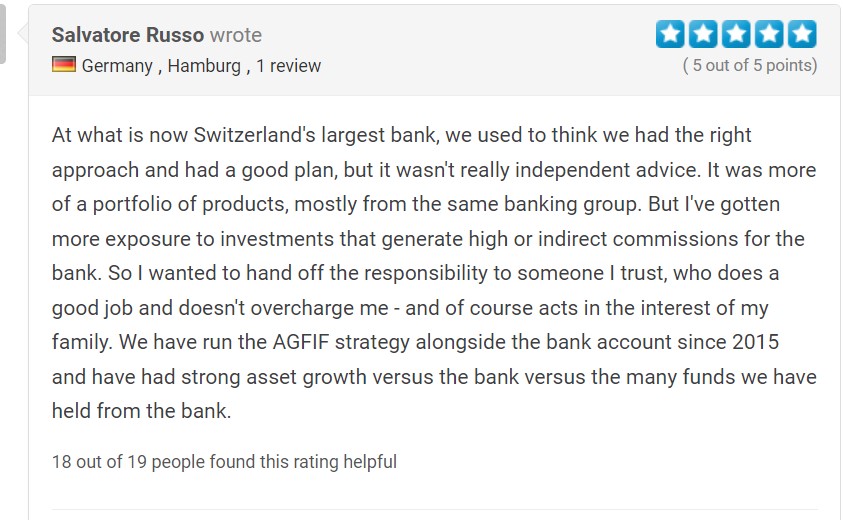 "(Image above machine translated by Google)

With what is now the largest bank in Switzerland, we thought we were doing the right thing by choosing that bank, but it wasn't really independent advice. It was more of a portfolio of products that they were selling, mostly from the same banking group. But I've become more involved in investments that generate high or indirect commissions for the bank. So I wanted to hand over the responsibility to someone I could trust to do a good job and not overcharge me - and, of course, act in my family's best interests. Since 2015, we've been implementing AGFIF's strategy for our various bank deposits. And since then, we've seen strong growth in our assets. AGFIF's strategy is solid and well thought out."

S. Ru.

Hamburg, Germany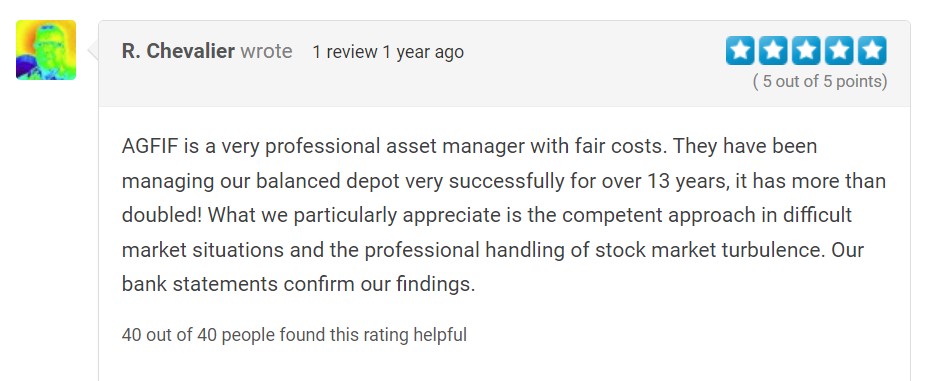 "AGFIF is a very professional asset manager with fair costs. They have been managing our balanced portfolio very successfully for over 13 years and it has more than doubled in value! We particularly appreciate their competent approach in difficult market situations and their professional handling of stock market turbulences. Our references confirm this."

R. Ch.

Baden